06/07/2019

NEW VETERANS RECOGNITION SIGN UNVEILED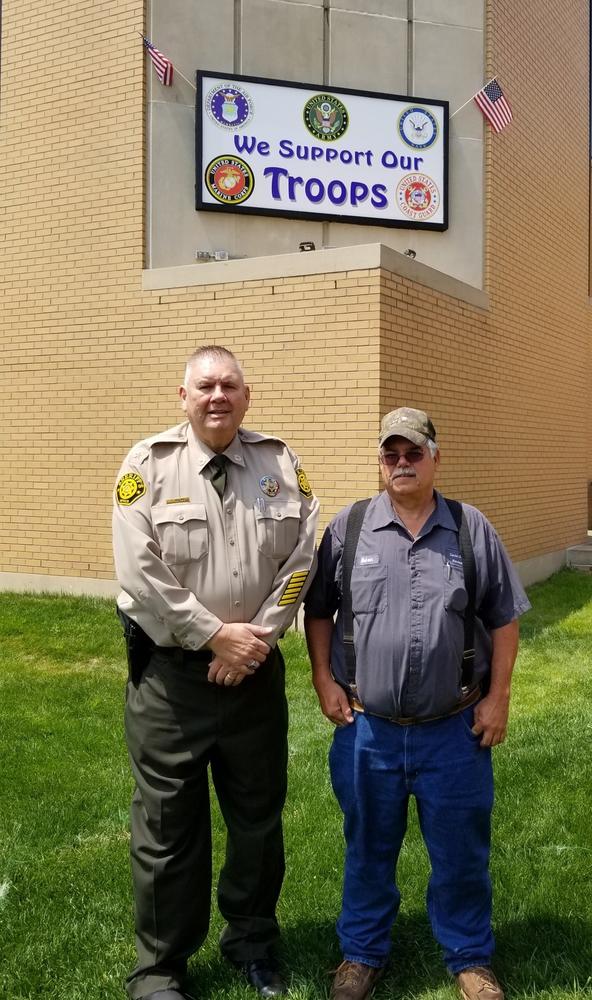 ON 6/6/2019 IN RECOGNITION OF THE 75TH ANNIVERSARY OF D-DAY AS WELL AS OUR 1ST SCHEDULED VETERAN'S COURT, THE OLD "WE SUPPORT OUR TROOPS SIGN" WAS RETIRED AND A NEW LIGHTED ONE PUT IN ITS PLACE.
THE OLD SIGN HAD BEEN DISPLAYED FOR NEARLY TWENTY YEARS AND WAS IN PRETTY BAD SHAPE.
A VERY SPECIAL THANKS TO THE DESIGNER WHO DONATED HIS LABOR TO MAKE THE SIGN, WILL JENNINGS WITH EYEDEAL DEZIGNZ, AND MEL MILLER, CAMDEN COUNTY MAINTENANCE SUPERVISOR, PICTURED HERE WITH SHERIFF TONY HELMS, FOR ALL OF HIS HARD WORK PLACING THE SIGN.
THE SIGN IS LIT AND IS A TRIBUTE TO ALL OF OUR VETERANS, PAST AND PRESENT.
Media Kit